Home / DAY OUTING / SOMRA BAZAR
If a traveler loves period film and added to it the person is also a fan of places which are ideal shooting locations of period films, you need to take a day tour to Somra Bazar. There are two small hamlets in the locality. One is Sukharia and the other is Sripur. Reaching these two places one gets the feeling that time has stopped here. Old mansions, 17th – 18th century temples, big water bodies with an abundance of varied kinds of trees around give the feeling of being transported to a different era. Enlightened by the information that famous director Mrinal Sen shot his film classic "Akaler Sandhane " here, a curious tourist tries to locate the exact shooting locations as highlights of the day outing to Somra Bazar. In case the traveler is hungry for more after taking a tour at Sukharia and Sripur, the boat making hub at nearby settlement of Balagarh may increase the appetite.
When we say that while taking a tour at Somra Bazar – time stops here, it is not always the built heritage we talk about. There is a silence around these heritage structures which is often broken by chirping of birds, local kids having fun plunging into the ponds, bees humming around. The locals around here stroll as they have ample time in the world. No one is in a hurry and suddenly one gets an urge to sit down on the green grass in front of an age old temple and enjoy the moment. If the visitor taking a weekend break at Somra Bazar is a Westerner, then almost unintentionally a phrase comes out – "Ah – this is east."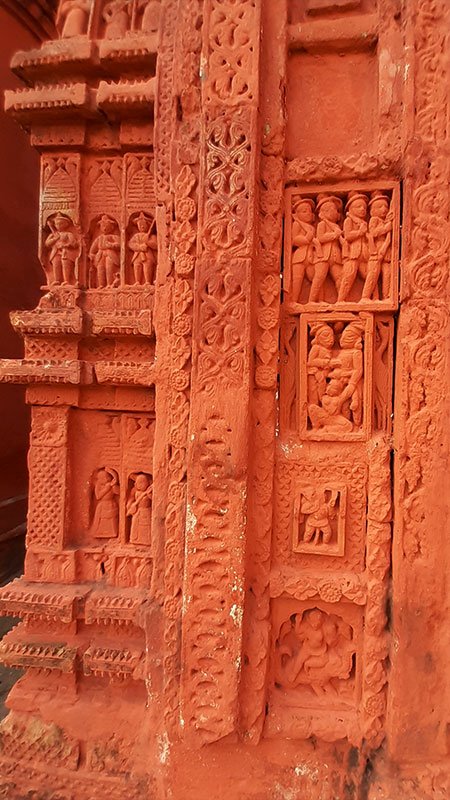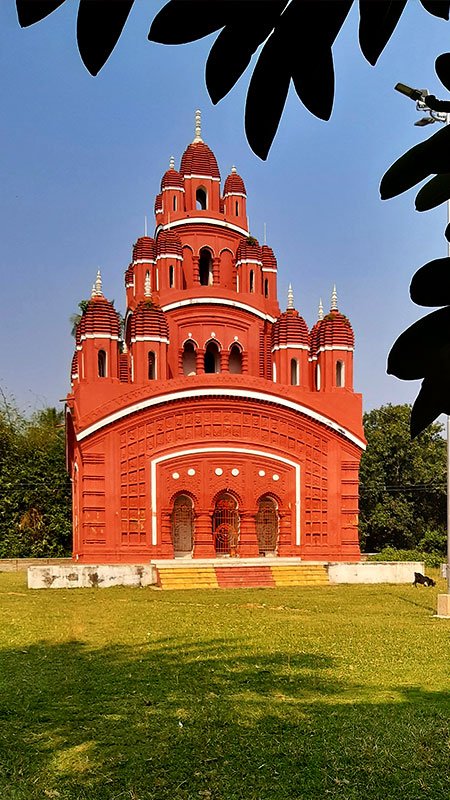 8.00 AM
Start from Kolkata (breakfast en-route)
10-30 AM
Reach at Sukharia (have a tea) and start the village trail by TOTO.
1.00 PM
Back to refreshing point. Lunch will be served here
2.00 PM
Start the second part of the temple trail.
4.00 PM
Back to refreshing point, have tea and start the return journey to Kolkata(Snacks en-route).
7.00 PM
Reach at Kolkata.
PLACES TO SEE AT SOMRA BAZAR
This 25 pinnacled temple was built by Bireswar Mustafi in 1813. It once had some terracotta motifs on its wall of which maximum have worn out to a considerable extent. Flanked on either side by 12 (6 on each row) smaller temples, the temple looks pretty special on a sunny day. 10 out of 12 temples are Aatchala and two are Pancha Ratna. All temples have been painted in red. There is a pond beside the temple which makes a pretty picture. The temple is the highlight of a day outing to SomraBazar.
This dilapidated mansion named Radha Kunja with several long pillars was once the home of Mitra Mustafis at Sukharia. Mrinal Sen shot a considerable part of his film "Akaler Sandhane" here. The entry to the house is subjected to the wish of the residents of the mansion. However, all are welcome when Durgapuja takes place inside the mansion. Day tour to Sukharia is also arranged during Durga Puja
Hara Sundari temple complex is almost a look alike of Ananda Bhairabi Temple except the fact that the temple itself is a nine pinnacled affair (Navaratna). Also the temple surrounding it is 14 in number out of which 12 are Aatchala and 2 are Pancha Ratna. The temple was built by Ramnidhi Mustafi in 1813 and was renovated in 2011. Earlier there was a two storied gate to enter the temple which does not exist anymore.
Like Harasindari Temple, Nistarini Kali Temple is also a Navaratna temple. It earlier had a Natmandir or pavilion in its front which does not exist. The temple has a pillared corridor crossing which one has to enter the inner sanctum of the place. Nistarini Kali is the last stop at Sukharia during a day tour to Somra Bazar. The temple was built by Kashigoti Mustafi in 1847.
Constructed in 1707 by the Mitra Mustafi family, the wood built Chandi Mandap is the most talked about built heritage of Sripur. In its interiors, there are intricate wood curved panels in the same manner motifs are seen on terracotta panels of West Bengal. Apart from the wooden wall panels, one can see exquisite wood crafted designs can be seen on pillars and the roof beams. The designs are floral, geometric & figurative.
The main temple of the Mitra Mustafi house located in the same premises is at present an Aatchala structure with a pillared corridor in front like the Harasundari Devi Temple. The temple has an Octagonal Rasmancha and a flat roofed Natmandir nearby.
The two temples stand side by side near the premises of Radha Gobinda Mandir. Earlier they were Pancha Ratna temples, but their pinnacles have reduced to one for each structure.
This is a flat roofed structure raised on a platform at the entrance to the lane leading to MItra Mustafi premises. The pillars are the roof looks elegant. Locally it is known as Dolmancha
Saptagram situated a few kilometers away from Balagarh was a thriving port during ancient and medieval times. Whenever anchored vessels needed repairs, workers from Balagarh attended to them. Balagarh still operates as a boat manufacturer's hub. It is very exciting to see such boat making in progress. Balagarh is adjacent to Sripur.
The crumbling mansion named Radha Kunja and the temples at Sukharia was built by descendants of Rameswar Mitra Mustafi, who was awarded the Mustafi title by the Mughal Emperor Aurangzeb in 1704. The Mitra Mustafis also have establishment in the neighboring village of Sripur and at Ula Birnagar of Nadia district. During the rule of monarchy, most of the family members were employed in different positions of Revenue department. The origin of the family of Rameswar Mitra Mustafi can be traced to Kanuaj when their first descendant who was 19th generation earlier arrived here. Sripur also have built heritage of Mitra Mustafi family. In 1708 Rameshwar Mitra's eldest son Raghunandan settled in Sripur. He made a fortune and established a fort complex with several temples. Some of the temples still remain. One can start the tour of Somra Bazar from Sukharia and end at Balagarh. Ideally a day tour of Somra Bazar is recommended as till date there is no proper accommodation facility.
By Train: Non AC Unreserved Local train (Howrah Katwa line) from Howrah Station
By Road: Located 78 km North from Kolkata, Somra Bazar can be accessed by Kalyani Expressway.
There are no decent eateries to eat at Somrabazar. It is advisable to carry packed food or have lunch at Kalyani.
Stop searching and speak to us who knows.