Home / DAY OUTING / NAYAGRAM
If you are inclined towards art elements and love to observe first hand such art objects being created live, a day tour to Nayagram is recommended for you. The village of Naya is located in the Pingla block of West Midnapore district. The residents of this village specialize themselves in creating painted narrative scrolls locally know as Pot over generations. The artisans of Nayagram are locally known as Potuas or Chitrakars. Using mainly organic colours the Chitrakars paint on on long canvas fixed on scrolls of cloth. The theme of paintings created by Chitrakars of Nayagram has a wide variety. In a day outing to Nayagram tourists can busy themselves in firsthand experience of observing the Chitrakars painting tales from Ramayana and Mahabharata as well as Mangalkavyas. The 20th century generation of Chitrakars also takes interest in current incidents. 
The origin of Patachitrakars most probably started from 13th century onwards. The artisans used to unfold the scroll and sing the stories depicted in the scroll. The Chitrakar then went maneuvering the scrolls, while singing the narrative, depicting one frame at a time. The Potuas have their own songs written by them. These songs are known as Poter Gaan. While taking a day long to Nayagram, one can request the artisans to sing a song which they happily oblige.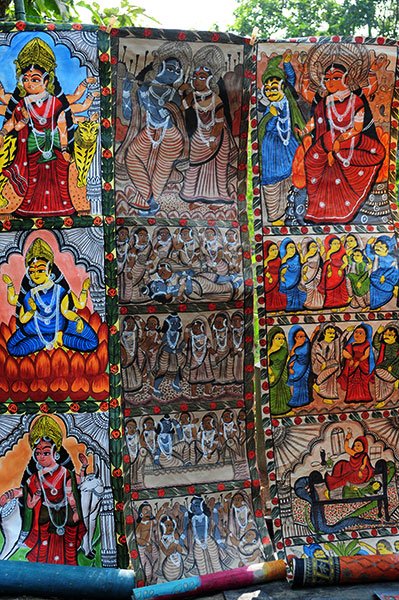 8:00 am : start from Kolkata (En route breakfast)
11:00 am : Reach at pingla, have tea. 11:30 a.m. Start village trail
1:30 pm : have lunch
2:30 pm : Visit folk art centre and collect your memento (own cost)
4:00 pm : Start return journey
7:00 pm : Reach at Kolkata.
Originally Patachitrakars visited villages and entertained and educated the village residents displaying their art. As a price of their performances, the villagers used to offer them rice and vegetables. In modern day, they display their artistic talent to create art materials for decoration and market them with the help of several NGOs and the Government. Every year during November end, the Patachitrakars of Nayagram organize a fair named as "Pot Maya", where their handicrafts are for sale in a large number. A tour to Nayagram can be most fruitful during "Pot Maya" festival, when majority of house have the walls of their houses painted.
As a tourist moves around the village during their day long venture to Nayagran, it will be a pleasant surprise for them to observe as to how the Chitrakars procure their paint from natural sources. The steps involve crushing flowers or fruits and sometimes even the barks of trees. The extracts are mixed with the gum of the Bengal quince flower (bael) to create the paint. The practice is prevalent among majority of the artisans.
A day outing to Nayagram is accompanied by lunch at any of the artisan's house at Nayagrm. The people of the village are welcoming and friendly.
Every year in November, the local artisans arrange "POT MAYA" a fair to showcase their craftsmanship, which is enermously popular here.
Jalchak for local trains and Kharagpur for express trains.
Throughout the year except Monsoon 
We can prearrange staying at an artisan's house and have food with them.
Stop searching and speak to us who knows.