Home / DAY OUTING / Ambika Kalna
DAY OUTING - Ambika Kalna
For a History buff in Kolkata who is looking for a relaxing one day outing amongst a plethora of historical relics, then our day tour to Ambika Kalna is highly recommended. This ancient town dating to almost 1000 years based on 10th and 11th century archeological relics found from the adjacent Bhagirathi river can be an interesting hunting ground for ardent history lovers. Mangal Kavyas from Bengal and map made by Mattheus van den Broucke of the Dutch East India Company suggest that the town was earlier known as 'Ambowa' or 'Ambowa Muluk' between 15th to 16th centuries.
Those interested in Bengal temple of architecture would love a daylong outing to Ambika Kalna as the place boasts of almost all variety of Bengal temples of art. Strictly speaking even Bishnupur does not have such a wide array of temples like Ambika Kalna. From simple Aatchala styled to 25 pinnacled temples, Ambika Kalna is true the land of variety of temples. The temples of Ambika Kalna are not as old as the city. There are several mosques in the city which predates the temple, simply because Ambika Kalna became a significant Military base after Jafar Khan conquered Saptagram in 1298. In a tour to Ambika Kalna a visitor can discover old mosques in the city dating between the years 1490 to 1559. Ambika is also famous because Chaitanya Mahaprabhu visited the town during 16th century. The first ever Temple dedicated to Chaitanya exists in Ambika Kalna.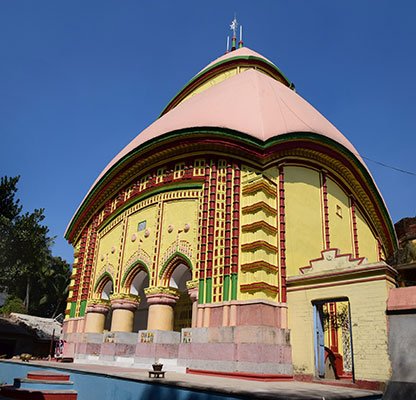 8:00 am : Start from Kolkata (breakfast En route)
10:30 am : Reach at kalna (have a tea) and
start the city trail by rickshaw/Toto. 12:30 pm: back
to kalna (city point/central point) have lunch.
2:00 pm : start second part of city trail.
4:00 pm : back to city point/central point. Get the car
and start the return journey. (tea and snacks En route)
7:00 pm : Reach at Kolkata
The terracotta temples of Ambika Kalna were built by the Maharajas of Burdwan between 18th to 19th centuries. There is a cluster of temples inside a premise named Rajbari complex. Just opposite to it another complex houses as many as 108 temples. These two are prime attractions of an Ambika Kalna day tour. There are also other tourist attractions in Ambika Kalna which can be listed in this manner :-
The temples were constructed by the then King of Burdwan Tejchandra in the year 1809. The Aatchala styled temples are built in two concentric circles, each of which has small temples dedicated to Lord Shiva. The inner circle has 34 temples with white Shiva lingams. The outer circle has 74 Shiva temples with Black and white Shiva lingams in alterative temples. The number 108 is very auspicious & represents the 108 beads in the rosary. The temples are protected by Archeological Survey of India (ASI).
The Rajbari premise is the main attraction of a
typical Ambika Kalna tour
.
The Rajbari complex temples have been built at different periods by Kings of Burdwan and their family members. It is also protected by Archeological Survey of India (ASI). For Video shooting, one has to take permission and pay a fee.  
Pratapeshwar temple –

This Pirha Deul temple of Pratapeshwar was built in 1849 by Pearykumari Devi, first wife of Raja Pratapchand (son of King Tejchandra). Tourists take time in looking at the exquisite terracotta plaques present on all the outer walls of the temple as well as in its inner sanctum. The plaque of Ram Sita sitting on throne and that of Durga Durga as Mahishashurmardini standing betweem Ram and Ravana are the most watched panels during

Ambika Kalna tour.

Rasmancha :

Inside the Ambika Kalna Rajbari complex, Just after Pratapeshwar temple lies an octagonal Rasmacha. This structure has one dome shaped pinnacle with two sections. The outer section has 24 gateways and the inner has 8 gateways.

Laljiu temple:

This is the oldest of the three

25 pinnacled temples in Ambika Kalna

inside an inner complex near the Rasmancha. The temple was built in 1739 by Raja Kirtichand Rai of Burdwan for his mother Brajakishori Devi. The temple has triple entrance witha Jagmohan (Porch) in this front and a huge Aatchala pillared Natmandir. The deity of the temple is Radha and Krishna. Among other terracotta motif, Laljiu temple displays scenes from Krishna Lila and various Europeans in action. This is the most important temple to visit during

Ambika Kalna Tour.

Giri Gobardhan temple.

An extremely late style of Bengal temple of which only few examples are left, the 1758 built

Giri Gobardhan temple is in the same enclosure as that of Laljiu temple. The roof of this temple is designed like a hill with many human figures and animals on it.

Krishnachandra temple:

This

temple of Ambika Kalna

has an imposing structure and design style similar to that of  Laljiu Temple. It has a triple entrance as well as a porch but there is not Natmandir. If a visitor taking a

tour of Ambika Kalna

has interest in terracotta work is of highest quality, Krishna Chandra temple will not disappoint. Built in 1751 by Raja Trilokchand in the name of his mother Lakshmikumari Devi, the temple has terracotta plaques displaying scenes from Krishnalila and a variety of social scenarios. The deities of the temple are Krishna Chandra and Radha.  

Vijay Vaidyanath Temple:

Located on the backside of Krishnachandra temple, Vijay Vaidyanath Temple is an Aatchala temple built by King Trilokchand as per wish of his mother.

Rupeswar Shiva's Chandni temple

: Located in the centre of Rajbari Complex is a flat roofed temple alas Chandni temple along with five small Aatchala styled temple. The temple was built by King Tilakchandra's first wife Rupkumari Devi and is the only

flat roofed temple at Ambika Kalna

.

Temple adjacent to Rajbari Complex

: There are two five pinnacled temple named Jaleshwar and Ratneshwar temple adjacent to Rajbari complex. At a short distance from the complex there is the Aatchala Rameshwar Shiva temple built in 1783 by BIshankumari, mother of King Tejchandra.
Siddeshwari Kali Temple is arguably the oldest existing as well as religiously famous temple of Ambika Kalna. If a visitor is religiously inclined, a visit and offering puja at Siddeshwari Kali Temple is a must during Ambika Kalna day tour. Local legend says the original temple was established in the 7th century by one saint Ambu. In the beginning worship was conducted with a religious clay poy, but in due course the idol out of Neem Wood. Later Siddeshwari Kali Temple of Kalna was renovated by King Chitrasen Rai (Son of Kirtichand Rai) in 1741. The temple is of Jor Bangla style and has seen several layers of renovation over the years.
Goplajiu's Temple at Gopalbari
Gopaljiu's temple is the third of the 25 pinnacled temples in Ambika Kalna. During King Trilokchand's rule, Krishnachandra Burman of the Royal family built this temple in 1766. The temple is close to Siddeshwari Kali Temple. There are several terracotta work on the walls aof the temple.
King Trilokchand had built this temple in the name of Chitrasen's grandmother Brajakishori Devi in the year 1754. The four-feet idol of Basudev made of Kastipathar is an exquisite work of art. The temple is at a  stone throw's distance from Siddeshwari Kali Temple.
Shree Chaitanya along with Nityananda visited visited Ambika to meet Gauridas Pandit. hree Chaitanya gave Gauridas Pandit a handwritten Bhagabat Gita which is still kept at Mahaprabhu Bari. Gauridas Pandit was established wooden deity of  Chaitanya and Nityananda at Ambika Kalna. He housed the deities in the first ever temple of Shree Chaitanya at Ambika Kalna which is known as Mahaprabhu Bari. No Photography is allowed inside Mahaprabhu Bari.
The oldest surviving mosque in the city is the Datankathi Tala Mosque. Its foundation stone says that it was constructed in 896 Hijri alias in the year 1490.  Once upon a time the mosque has abundant terracotta on its wall.
The nearest rail station is that of Ambika Kalna. The temple city is just around 100 km North km from Kolkata. There is not much express train available from Kolkata in descent time; usually people take crowded local trains to visit the place. For a comfortable day tour to Ambika Kalna, Road trip in a comfortable vehicle is the best option
Ambika Kalna has some budget hotels and limited menu eateries. Best option is to have lunch on eateries on the highway on the way to Ambika Kalna.
Stop searching and speak to us who knows.