Home/Best Of Bengal/ MURSHIDABAD
Offbeat weekend in MURSHIDABAD
If you fancy about a tour to a historical town of West Bengal, then a weekend tour to the town of Murshidabad will definitely enrich your knowledge about Bengal's ancient history. Originally known as Muksudabad, the city's name changed to Murshidabad during the rule of Murshid Quli Khan. It was the capital of Bengal Suba until Nawab Siraj-Ud-Daulah lost it out to the British Empire after being betrayed by Mir-Jafar in the year 1757. At that time, Murshidabad was said to be as prosperous as London. At present Murshidabad is a shadow of what it used to be – a small hamlet with few relics left of its prime time.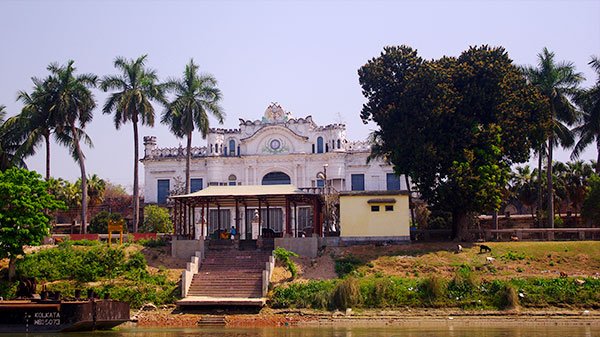 While embarking on a tour to Murshidabad, a tourist will find that the tour is some sort of time travel. The environment around the mansions, mosques, tombs and gardens has not changed much. While taking a walk around the royal enclosure of the town named Kila Nizamat, the tourist visiting Mutshidabad notices that the town still retains many old mansions left belonging to the era of Nawabs which are not even tourist spots. The town also retains such industries from the Nawabi era as carving in gold and silver embroidery and silk weaving. Since ivory trading is banned in India, artisans have moved to wood carving.
20% DISCOUNT
on all packages
Flip to avail
Till 31st December
Coupon Code
472e17
Mailor whatsApp this code along with your details to avail discount on all packages
2 nights 3 days
AC Room

Breakfast, Lunch, Evening Snacks, Dinner

Pickup & drop from Murshidabad
*Excluding First day Breakfast,Guide and Porter charge
3 nights 4 days
AC Room

Breakfast, Lunch, Evening Snacks, Dinner

Pickup & drop from Murshidabad
*Excluding First day Breakfast,Guide and Porter charge
Places to visit at Murshidabad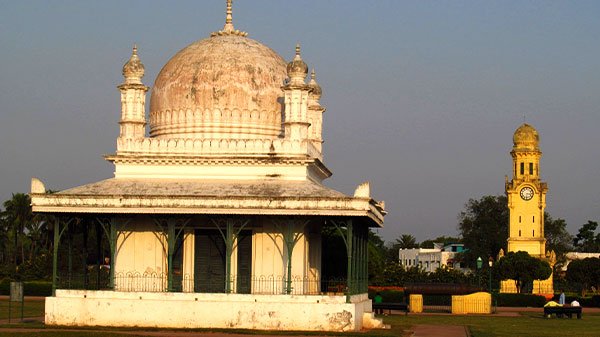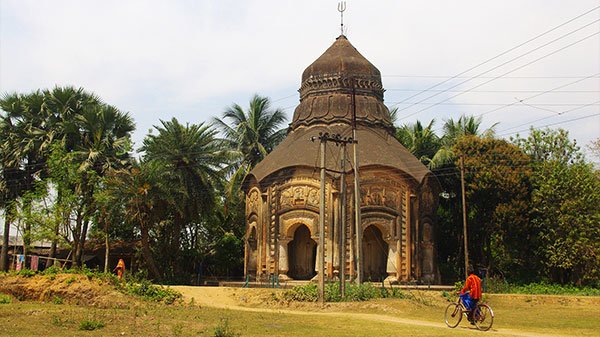 Inside and near to Kila Nizamat
(Central and Southern part of the town)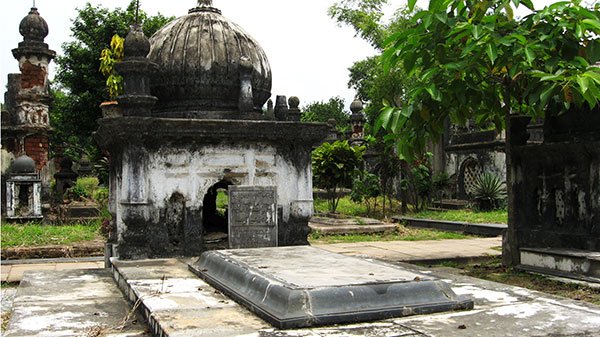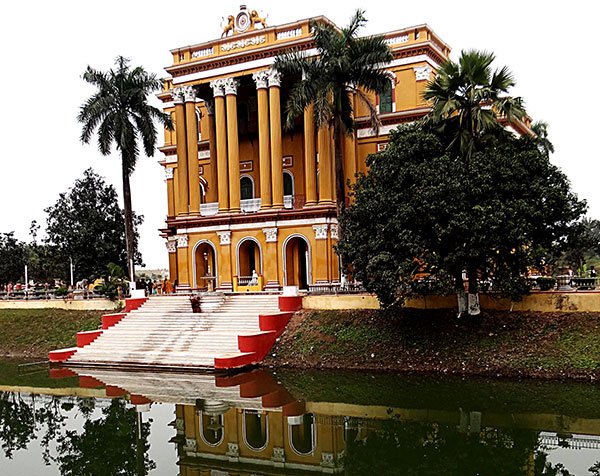 Outskirts of Kila Nizamat
(Northern Part of the town)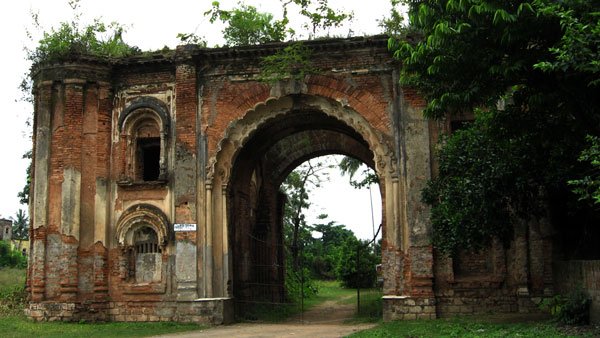 On the other other side of Bhagirathi
(western side)
A country boat ride on the Bhagirathi followed by a Toto ride takes the visitor to the family grave of Nawab Siraj-Ud-Daulah at Khosbag. The grave of Siraj lies here in simple manner besides the grave of Mirza Mehendi. Below the grave of Siraj is the grave of wife Lutf-un-nisa. Also inside this mausoleum is the grave of Siraj's grandfather – Nawab Alivardi Khan.
The 200-year-old Pancharatna Ratneshwar Shiva temple, with exquisite terracotta artwork is located 8 km west of Khushbagh at Bhattabati. During the regime of Nawab Hussein Shah (1493-1519), 1,200 Bhatta Brahmin families from Karnat in south India settled down at Bhattabati.
Kiriteshwari Temple and Dahapara Dham are situated within a short distance. Located 8 km North of Khosbagh, Kiriteshwari is one of the 51 Pithasthanas of Hindus where the Kirit (the crown) of the goddess Sati is said to have fallen. Dahapara Dham is famous for being the birthplace of Saint Jagatbandhu Sundar. He is believed to be the reincarnation of Krishna as an avatar and his ashram is visited by religiously inclined people.
By Rail: Hazarduari Express leaves for Murshidabad from Kolkata station in the morning and Bhagirathi Express leaves in the afternoon from Sealdah Station.

By Road: A road journey for a weekend tour to Murshidabad is a good option provided one starts early. Murshidabad is around 222 km North of Kolkata

By Air: The nearest airport is located in Kolkata. Netaji Subhas Chandra Bose international airport is around 232 kilometre amway from Murshidabad Town.
There is not much standard accommodation except one or two near Hazarduari. Berhampur has several good hotels.
You would love the restaurant if you are a Bengali as the in-house restaurant serves with all kinds of sumptuous Bengali food. Apart from that you can also try out Chinese and Moghlai food. 
Offbeat weekend Exclusive Package
2 Night 3 Days
Day 1 :
Hazarduari Palace & Museum,
Nizamat Imambara
Bachche Wali Topi
Clock Tower
Modina of Siraj
Day 2 :
Namakharam Deuri Katra Masjid Futi Masjid Jahan Kohsa Kaman Motijhil Ruins of Ajimunnisha Mosque Jafarganj Cemetery Nasipur palace Kathgola Palace Wasif Manzil Khosbag Cemetery of Siraj & Nawab Alivardi khan Kiriteswari Temple
Offbeat weekend Exclusive Package
3 Night 4 Days
Day 1 :
Hazarduari Palace & Museum,
Nizamat Imambara
Bachche Wali Topi
Clock Tower
Modina of Siraj
Day 2 :
Namakharam Deuri
Katra Masjid
Futi Masjid
Jahan Kohsa Kaman
Motijhil
Ruins of Ajimunnisha Mosque
Jafarganj Cemetery
Nasipur palace
Kathgola Palace
Day 3 :
Wasif Manzil
Khosbag
Cemetery of Siraj & Nawab Alivardi khan
Kiriteswari Temple
Apart from the prime summer season like May- June, Murshidabad can be visited throughout the year.
Murshidabad is the Nearest rail station which is around 3 km from Hazarduari.
HOW TO TRAVEL INSIDE MURSHIDABAD
You can avail any of the local transports like Auto, Toto, car or Tanga. But Tanga (horse driven cart) is the best medium to feel the actual ambiance of the city.
Baronagar was ruled by Rani Bhabani of Natore (Now at Bangladesh). She built several temples here. The most famous is the Char Bangla Temples, where four char chala temples with exquisite terracotta work on their walls stands facing each other. There are other temples here too. One has to reach Jiyaganj from Baronagar and cross the Bhagirathi in a country boat to reach Baronagar. Tourists doing extended tour of Murshidabad often visit Baronagar.
Once a British Cantonment area, Berhampore became an important town especially after the battle of Plassey in 1757. Adjacent to Berhampore, Cossimbazar was also an important fortified area for some time. There were several British and Dutch factories here. Cossimbazar Choto Rajbari is the star attraction of Berhampore. One can take a ticketed tour of the premises. Other places to visit here are the Dutch and English cemetery, Byaspur Shiva Temple, Dayamayi Kali Temple and Armenian Church.
In what is pompously referred to as a date with nostalgia in Murshidabad, a typical tour inside the Murshidabad town consists of a visit to Hazarduari Palace and Museum and the monuments in its premises, Wasif Manzil, Tripolia gate, Motijheel Park and its Mosque, Katra Masjid, Jahan Kosha Cannon. The more inquisitive traveler visiting Murshidabad takes a look at the ruined Fouti Masjid and the Nawab's stable. Those with a bit time in hand, includes in their package tour of Murshidabad few more spots in the outskirts of the town like grave of Azimunnishah, Nashipur Palace, Jafarganj cemetery, Namak Haram Deori, Nashipur palace, House of Jagat Seth and Kathgolap Gardens. A country boat ride on Bhagirathi river at Murshidabad takes the visitor to the Khushbagh cemetery on the other side of the river. Other places of tourist attraction close to Murshidabad are the terracotta temple at Bhattabati and those at Baranagar. Many of the buildings at Murshidabad are protected by the Archeological Survey of India.
Stop searching and speak to us who knows.