Home / DAY OUTING / NATUNGRAM
How about a village trip as a day tour? A village dotted with colourful people who undergo a unique profession for their livelihood. They are Sutradhars (Artisans) who undertake the profession of making colourful wooden dolls. A day trip to Natugram – the village of doll makers can be very refreshing.
The age-old tradition of making wooden dolls of Natungram in Burdwan District has now become the major source of livelihood for the residents of this village. Located very close to Rail station of Agradwip on the Howrah- Katwa train line, Natungram has been the venue of Annual Wooden Dolls Fair in the month of January for a few years. At that time many visitors from the city including foreigners embarked on a day tour to visit the Wooden Dolls Fair of Natungram.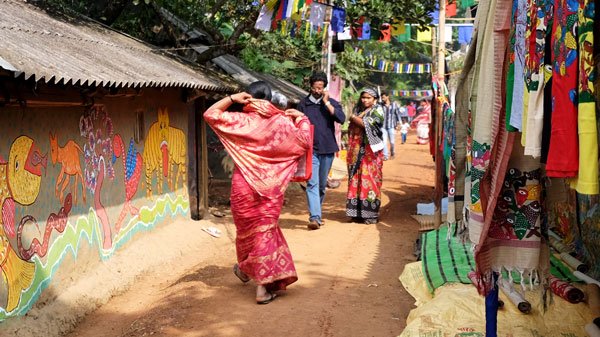 8:00 am : start from Kolkata (En route breakfast)
11:00 am : Reach at nutangram, have tea and start the village trail
1:00 pm : Have lunch
2:30 pm : Start the second phase trail, collect handicraft memento (own cost) and get the vehicle.
4:00 pm : Start return journey (En route tea and snacks)
7:00 pm : Reach at Kolkata.
Chupir char is a small place at Purbasthali near Natungram which is famous for an oxbow lake created by river Ganges. If you are a bird watcher, this is the perfect place for youin a weekend specially in winter.
If you wish to check out these dolls of Natungram , you will notice that the uniqueness of the dolls is that they are carved from a single piece of wood. The carving is done by the men while the woman does the painting. Even the children help their parents by coloring the dolls. The artisans use fabric colours and oil paints in decorating the dolls. Assisted by several NGOs the wooden dolls are also getting exposed to overseas markets along with the National Market.
If you embark on a day trip to Natungram, you will find that out of the many type dolls, the Wooden Owl has been the most famous. Other than that Radha Krishna Dolls, Gour Nitai , etc are popular too. There are soldier dolls too, The fair is organized by Swami Janakidas Natingram Kasthakhodai Hastasilpa Samity in association with banglanatok dot com.The Government of West Bengal, in partnership with UNESCO, has taken up an initiative to develop Rural Craft Hub at Natungram.
HOw the dolls are crafted
The traditional style has been retained to a great extent. The wooden dolls at Natugram are first chiselled from a piece of seasoned wood followed by face and attire painting. The dolls have a rustic beauty, which is the specialty of such handcrafts. There are three to four distinct varieties of dolls. Get ready to spend on souvenirs while taking a trip to Natungram as because besides making traditional dolls, the artisans have improvised in incorporating these dolls into furniture like small stools, and tables of various sizes. The owls or soldier dolls are used as stands. If you fancy a designer cupboard , you will find that the doll makers of Natungram have improvised that kind of furniture with their wooden dolls.
Interested visitors at Natungram can check out the artists at work, take a tour of the Folk Art Centre to learn about the craft of doll making and even learn the stories behind it.
Agradwip on Howrah Katwa Line. Natungram is 144 km North of Kolkata. No Express train stops at Agradwip. Only option to reach by rail is Non AC local trains.
Nearest Town is Katwa which is 8 km from Natungram. Katwa has spartan hotels and local eateries. Best Option is to visit Natungram for a day tour.
Stop searching and speak to us who knows.