Home / DAY OUTING / Gongoni Danga
DAY OUTING - Gongoni Danga
Looking for a totally offbeat daylong getaway from Kolkata with just about 4 hours of one way road time? Try our day trip to Gongoni Danga from Kolkata and you will come back rejuvenated. Located at West Midnapore, "Gongoni Danga" is actually a gorge which like similar landscape formation is a result of decades of soil erosion by the adjacent Silabati river. If you are fond of Wild West movies and yet couldn't make to the State of Arizona in the United States of America, choose a day long tour to Gongoni to discover a row of jagged laterite cliffs leading to a precarious drop leading to the river Shilabati. This "Grand canyon of West Bengal" as it is often referred as lies just over 140 km North West from Kolkata near the settlement of the ancient settlement of Garhbeta. On reaching Garhbeta, after driving though a pathway of reddish yellow soil with several trees in the neighbourhood, one reaches a clearing. Walking down a few steps takes the visitor to the 70 feet drop of the gorge.
If you decide to embark on a tour to Gongoni, get ready to be surprised by Mother Nature's creation at its best. The gorge offers a variety of formation. At some place the Gorge looks like a long stretch of fortified wall and from some other viewpoint you may discover a cave like structure. The mesmerizing variety of land formation in this gorge is the highlighting factor of this day tour to Gongoni from Kolkata. A staircase has been built from tourists to descend into the gorge and stroll down the flour-white sandbanks of Silabati River. If your camera has been lying idle for a long time, this is the place to rejuvenate it with stunning photographs. A quite picnic on the banks of Silabati river with the gorge looming over can be an ideal day out at Gongoni.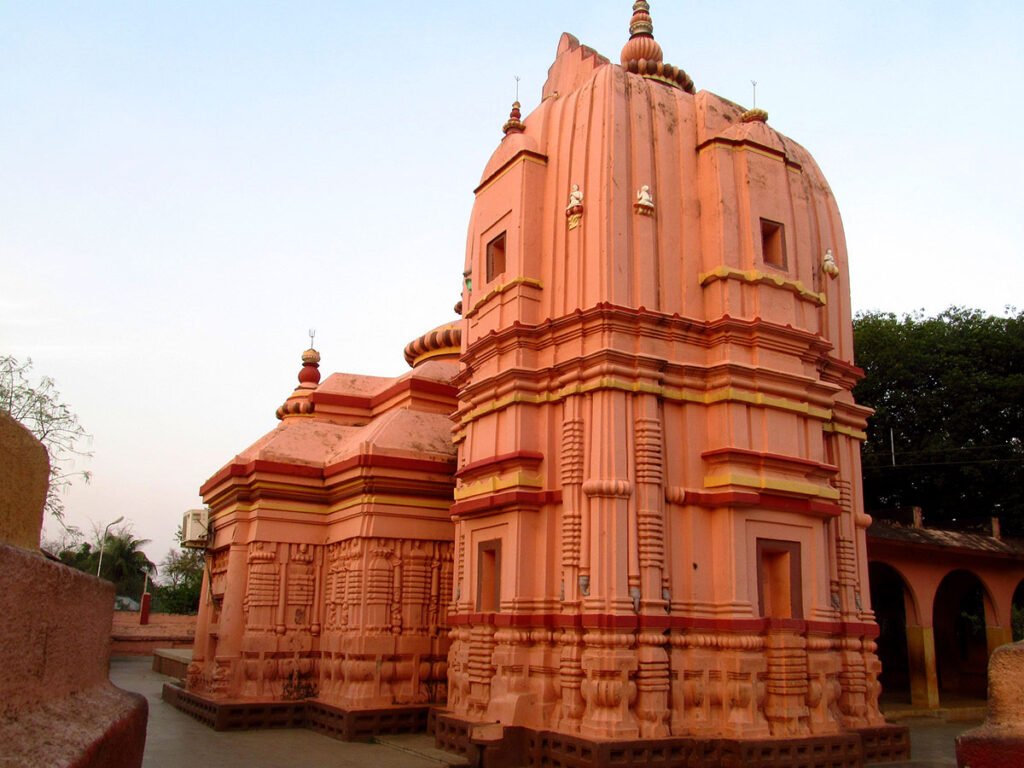 8:00 am :
Start from Kolkata (En route breakfast)
11:00 am :
Reach Gorbeta. Welcome tea
11:30 am :
Start local sightseeing trip by Toto. (Battery operated pollution free three wheeled vehicle)
1:30 pm :
Break for lunch
2:30 pm :
Move to gongoni danga
5.00 pm :
Back to Gorbeta and start the return journey
8:00 pm :
Reach at Kolkata.
Garhbeta is an ancient town with some historical temples. The major temples worth visiting during a tour to Garhbeta. You can visit following places here
The most famous temple of Garhbeta is a north facing Tri-ratha laterite stone built Pirha Deul with a Jagamohan (Porch) in front. As per local legend, famous king Gajapati Singha of Bagri kingdom constructed Sarbamangala temple at Garhbeta in the 16th century. The deity Sarbamangala is a twelve handed goddess riding on a lion.
This is a west facing laterite stone built Pirha Deul temple. The temple houses a Shivalinga which is considered to the Bhairav of deity Sarbamangala.
Constructed by Malla King Durjan Singh, the Radhaballabh temple is a laterite stone built Aatchala temple.
The complex house 12 Deul styled Shiva temple along with Lakshi Janardan's Ek Ratna Temple. Located near Garhbeta Bazar, these temples were built during 19th century.
Bogri Krishnanagar Krishna Rai Jiu Temple
Located 13 km west of Garhbeta town at the small settlement of Krishnanagar, the Krishna Rai Jiu Temple is a Pancha Ratna temple built in 1855.
The Heritage Town is located nearby. Gongoni can be added as an extended tour of Bishnupur
This is a historical town with the name of its rulers mentioned in Mughal Memoirs like Tuzk-e-Jahangiri. Chandrakona was the capital of Bhan Kings. A typical day trip to Chandrakona may include the following
A ruined temple complex renovated by Burdwan Maharaja Tejchandra in 1831.
Jor Bangla Temple in Dakshinbazar Area
Built by Bhan kings, the temple has exquisite stucco works on its wall.
Malleshwar Temple in Malleshwarpur area
A Pancharatna laterite built temple originally built by Bhan Kings, later renovated by Burdwan Maharaja Tejchandra in 1831.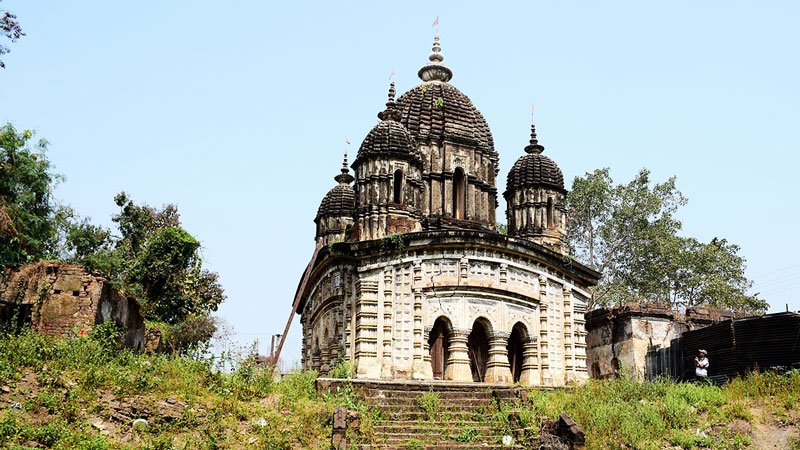 As per local folklore, Gongoni is associated with Mahabharata. It is said this was the land which was terrorized by Bakasura, who devoured a villager each day as his daily food. The Pandava's appeared here during their exile and came to know that the Brahmin family with whom they were staying was next in line to be Bakasur's food. Bhiam volunteered to go and ended up killing up Bakasur. A cave like structure in the Gongoni gorge was supposed to be Bakasura's Den.
Since the gorge faces west, morning is the best time to do photography session at Gongoni.
One can also see magical sunset over Silabati River while standing over the gorge.
Garhbeta is the nearest  railway station to Gongoni Danga. If a day tour is planned by rail, one can opt for Rupashi Bangla express for a round about journey.
There are only some spartan accommodation at Garhbeta, which is why it is best to do a day tour to check out the beauty of Gongoni Danga. 
Stop searching and speak to us who knows.